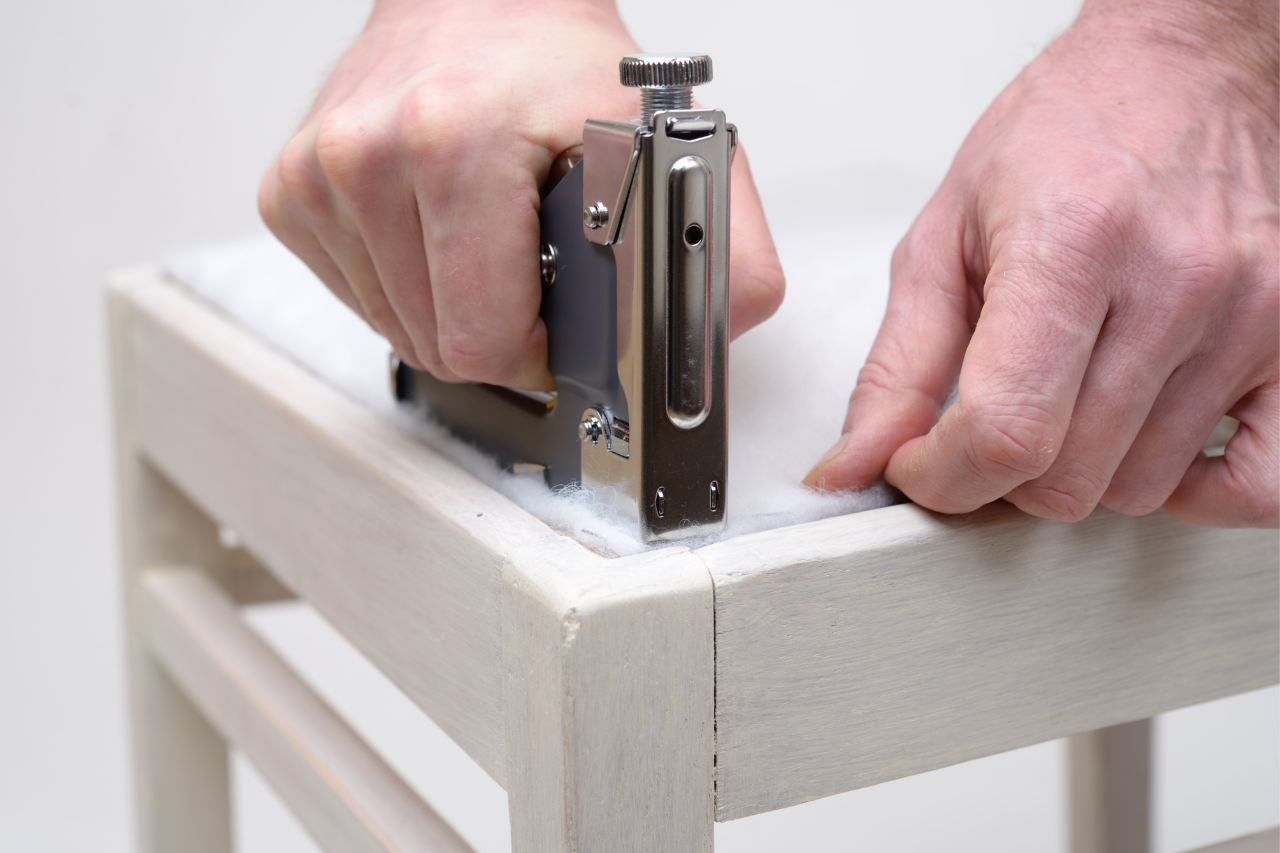 Invisible on the outside, nonwoven fabrics are an essential part of nearly any seating furniture. Upholsterers couldn't imagine working without nonwovens which are indispensable to keep padding in place — and to cover seams and other unsightly technical details. Making the piece of furniture clean and elegant from all sides. Even when upside down.
Disclaimer: This article showcases merely technical nonwovens in upholstery. We're not discussing upholstery covers here. 
---
Technical Fabrics in Upholstery
From a wide range of technical fabrics (both woven and nonwoven), the upholstery industry tends to use mostly nonwovens — they're less expensive than woven fabrics and don't unweave when cut. The general consensus is that nonwovens as technical textiles are more practical.
Most often, upholsterers work with these nonwovens:
Black nonwovens with fabric weight of 80, 90 or 100 g/m2 — mostly used to cover technical details and to unify the appearance of a piece of furniture (e.g. the bottom part of a chair).
White nonwovens with fabric weight of 20 or 30 g/m2 — used to keep padding in place, hidden under the outer cover. 
To achieve specific qualities, nonwovens can be subjected to special surface treatment — these include antistatic nonwovens, resistant to dust, very much appreciated by electrical engineers. That said, upholsterers and other furniture manufacturers usually don't require any special treatment of their nonwovens.
---
Supplying Nonwoven Fabrics to Upholsterers
Each upholstery company is unique — with perfected manufacturing processes that a nonwoven supplier needs to fit in smoothly. At Milmar, we're happy to conform to any production process. In general, we'd say these two patterns are the most common:
1. Nonwovens as Fabric Rolls
Standard rolls of nonwoven fabrics are 160 cm wide; other widths are less common but available. The upholsterer cuts the required parts (and shapes) of the nonwoven fabric straight off the roll. 
2. Nonwovens as Pre-cut Sheets
Some upholsterers wish to save time and have their nonwovens pre-cut. Squares of 50×50 cm are the most popular, used for regular chairs to keep their padding in place.

At Milmar, we pre-cut nonwovens in any desired shape — squares, stripes, L-shaped cutouts, and more. Sofa manufacturers like to order nonwoven sofa sets from us — one set contains 2 L-shaped cutouts, a long stripe to cover the bottom of the sofa, and squares to cover the padding.

When supplying various shapes of nonwovens, we stack them in the packaging according to shape. We recommend applying the same arrangement in your production hall so your workers can easily grab the piece they want.
---
Printed Nonwoven Fabrics
Nonwovens can even bear your signature! Branding is the most visible on black nonwovens, on the bottom part of a piece of furniture. Get your nonwovens branded with your logo to remind customers of your brand every time they turn their chair upside down or when unfolding their sofa.
---
Years of Experience as Upholstery Supplier
We've been working with various upholsterers and furniture designers for years, supplying fabric rolls by hundreds or pre-cutting made-to-measure pieces for furniture designers. The materials we offer are branded or plain, and of various fabric weight and width. Reach out to us to explore our portfolio and even get a free price quote.